Thimphu is the capital of Bhutan, and also the name of the valley and Dzongkhag or district. With estimated population of around 100,000, Thimphu is Bhutan's largest city. Thimphu valley is at an average elevation of 2300m. It was a wooded farming valley until 1951, when massive 17th century Fortress, Tashicho Dzong, was revamped by King Jigme Dorji Wangchuk to form Bhutan's official capital and replace the ancient capital of Punakha. Today the city sprawls across the western slopes of the Wang Chuu river valley, with several government offices located around Tashichoe dzong.
Rapid expansion following the pattern of rural exodus has resulted in considerable rebuilding in the city centre and mushrooming suburban development elsewhere. Norzin Lam, the recently upgraded main thoroughfare, is lined with shops, restaurants, retail arcades and public buildings. Elsewhere, there is a mix of apartment blocks, small family homes and family-owned stores.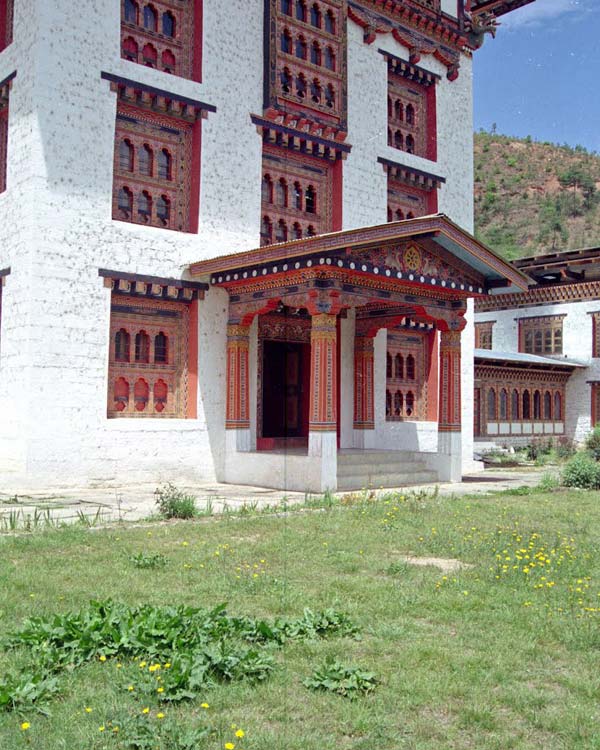 By regulation, all buildings are required to be designed in traditional style with Buddhist paintings and motifs. A lively weekend market (now open all days of the week) near the river supplies meat, vegetables and tourist items. Most of the city's limited light industry is located south of the main bridge. Thimphu has a growing number of commercial services and offices which provide for ever-growing local needs. Thimphu is one of national capitals that do not have traffic lights. Instead of traffic lights, traffic police directs the oncoming traffic with their dance-like movement of their arms and hands. The Memorial Chorten dominates the skyline of Thimphu. The Buddha Dordenma statue, the largest Buddha statue in the world, is on a ridge top, overlooking the city.